I-Chun Jenkins is an honors graduate in Textile Design from the New Brunswick College of Craft and Design in 1994, she began her career in the fibre arts weaving scarves and shawls using yarn that she dyed in the traditional Japanese wrap dyeing technique known as IKAT. Pieces that she created using this technique ensured that no two creations were identical.

Between 1992 and 1997 she received numerous grants and awards for her work both as a student and as a professional fibre artist. During this period of time Ms. Jenkins's products were featured in the Art Gallery of Ontario gift store.

In 1998 I-Chun decided to focus all of her creative energy on raising a family. In 2010 she purchased a small café in downtown Fredericton. Her pleasant personality and the creative food menu made the café a success.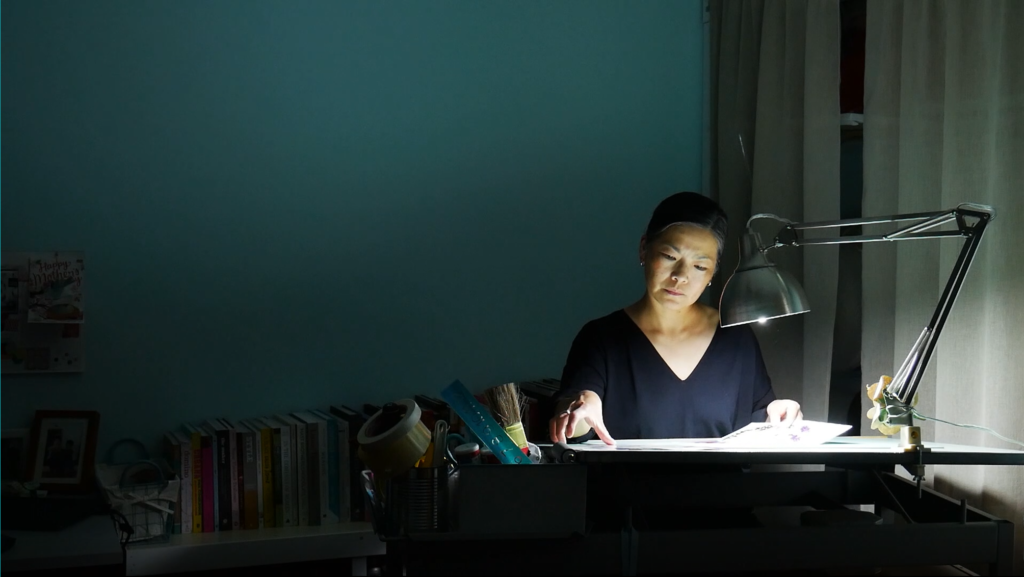 However by 2013 the yearning to get back to what she loved to do was so much that she decided to sell the café. She setup a home studio and began the process of getting back into weaving and creating with fibre.

I-Chun was never one to follow tradition nor wanted to duplicate any piece of work so she looked at working with non-traditional weaving material and ways to create one of kind pieces of art. Her love of magazines, nature and protecting the environment lead her to an artist's logical conclusion. She decided to reuse the magazines by using the pages as her material source for her weaving and art work. Pages are meticulously cut, sliced, weaved, crocheted or folded together to create a very unique piece of art, a one of a kind piece of art work.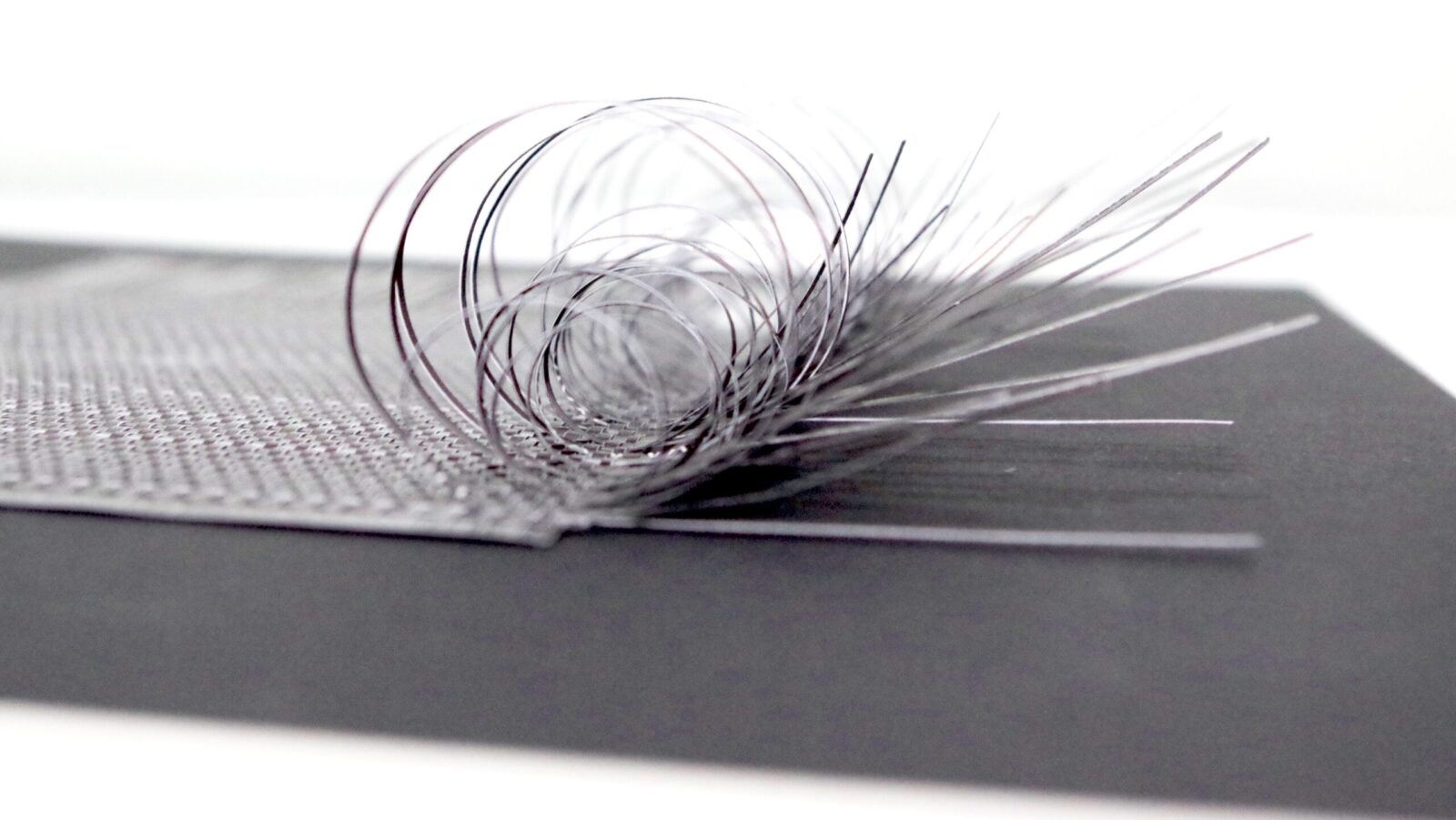 I-Chun Jenkins's work is available in galleries in Ontario, Quebec, Nova Scotia, and New Brunswick Canada and Los Angeles USA.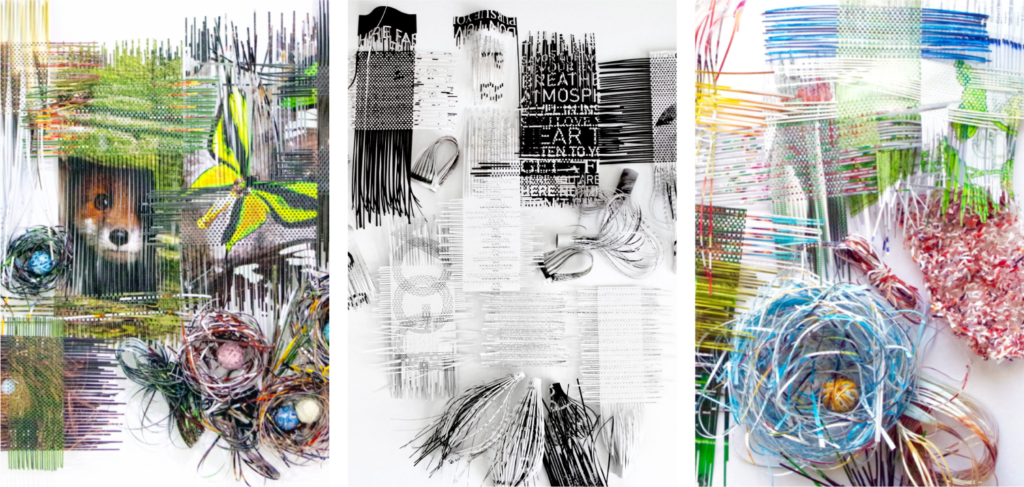 Gallery and Exhibition Showings:
2023 WONDER –
Solo Exhibition. Sunbury Shores, Arts and Ecology Centre, New Brunswick, Canada.
2022 BETWEEN THE LINES –
Solo Exhibition. UNB Arts Centre, University of New Brunswick, Fredericton, New Brunswick, Canada.
2021 EMBASSY OF CANADA,
Global Affairs Canada Visual Art Collection Program, Adu Dhabi, United Arab Emirates
2021 CANADIAN PAVILION,
Dubai Expo. Global Affairs Canada Visual Art Collection Program, Dubai, United Arab Emirates
2021 EMBASSY OF CANADA,
Global Affairs Canada Visual Art Collection Program, Harare, Zimbabwe
2021 SMALL WORK –
Andrew & Laura McCain Art Gallery, Florenceville, New Brunswick, Canada
2021 COLOURS OF SPRING –
Spicer Merrifield Gallery, Saint John, New Brunswick, Canada
2021 COME FROM AWAY –
Createdhere Magazine Gallery, Fredericton, New Brunswick, Canada
2020 HOLIDAY ART –
Studio 21 Fine Art, Halifax, Nova Scotia, Canada
2020 JUNCTURES –
Sunbury Shores Arts & Nature Centre, St. Andrews, New Brunswick, Canada
2020 HOW I SURVIVED THE PANDEMIC –
Spicer Merrifield Gallery, Saint John, New Brunswick, Canada
2020 JUNCTURES –
Andrew & Laura McCain Art Gallery, Florenceville, New Brunswick, Canada
2020 FOIRE PAPIER –
Papier Art Fair Represented by Studio 21 Fine Art, Montréal, Québec , Canada
2020 JUNCTURES –
Saint John Arts Center, Saint John, New Brunswick, Canada
2019 MATERIALITY AND PERCEPTION IN CONTEMPORARY ATLANTIC ART –
Beaverbrook Art Gallery, Fredericton, New Brunswick, Canada
2019 ALTERATIONS –
Buckland Merrifield Gallery, Saint John, New Brunswick, Canada
2019 AFFORDABLE ART FAIR NYC –
Represented by Artplex Gallery, Los Angeles, California, USA
2019 ROCKS PAPER SCISSORS –
L. A. Pai Gallery, Ottawa, Ontario, Canada
2019 LAYERED BOLDNESS –
Artplex Gallery, Los Angeles, California, USA
2019 FOIRE PAPIER –
Papier Art Fair Represented by Studio 21 Fine Art, Montréal, Québec, Canada
2018 FEAST –
Buckland Merrifield Gallery, Saint John, New Brunswick, Canada
2018 SOFA CHICAGO –
Sculpture Objects Functional Art & Design – Represented by Studio 21 Fine Art, Chicago, USA
2018 SMOKE –
Buckland Merrifield Gallery, Saint John, New Brunswick, Canada
2018 FOIRE PAPIER –
Papier Art Fair Represented by Studio 21 Fine Art, Montréal, Québec, Canada
2018 PRE- USED PAPER –
Studio 21 Fine Art, Halifax, Nova Scotia, Canada
2017 ARTS & FORM –
Studio 21 Fine Art, Halifax, Nova Scotia, Canada
2017 SALVAGE –
Charlotte Street Art Centre, Fredericton, New Brunswick, Canada
2017 JEEPERS PEEPERS –
Art & Cultural Centre of Sussex, Sussex, New Brunswick, Canada
2017 IOTA INSTITUTE POP UP EVENT,
Halifax, Nova Scotia, Canada
2017 FOIRE PAPIER –
Papier Art Fair Represented by Studio 21 Fine Art, Montréal, Québec, Canada
I-Chun Jenkins Awards and Grants:
2020 Creation Grant – Category B, Arts NB The New Brunswick Arts Board, New Brunswick
2018 Nel Oudemans Award – Sheila Hugh Mackay Foundation, New Brunswick
1997 Creation Grant – Province of New Brunswick, Department of Municipalities, Culture and Housing
1996 Educational Grant – Sheila Hugh Mackay Foundation, New Brunswick
1994 Best New Product Award – Mactaquac Craft Festival, New Brunswick
1994 Portfolio Grant – Province of New Brunswick, Department of Municipalities, Culture and Housing
1993 – 1994 Duffie Crowell Excellence in Design Award – New Brunswick College of Craft and Design Graduation
1993 – 1994 Susan Judah Travel Award – New Brunswick Crafts Council
1993 – 1994 Education Art Award – Province of New Brunswick, Department of Municipalities, Culture and Housing
1993 – 1994 New Brunswick Crafts Council Merit Award, Third Year Studies – New Brunswick College of Craft and Design
1993 – 1994 Briggs and Little Award, Third Year Studies – New Brunswick College of Craft and Design
1992 – 1993 Fredericton Designer Weavers Award, Second Year Studies – New Brunswick College of Craft and Design
1992 – 1993 The Co-op Platter Award, Second Year Studies – New Brunswick College of Craft and Design
1992 – 1993 Education Art Award – Province of New Brunswick, Department of Municipalities, Culture and Housing
YOU CAN FIND MY WORK AT:
PENTPER
CANADA, NS, LUNENBURG,
230 LINCOLN ST
THE ANDREW & LAURA MCCAIN ART GALLERY
CANADA, NB, FLORENCEVILLE,
8 MCCAIN ST
L.A. PAI GALLERY
CANADA, ON, OTTAWA,
13 MURRAY ST